Our Outdoor Kitchen
Enjoy
Fresh Meals
Our Outdoor Kitchen is open for Breakfast, Lunch, and Dinner Visits every day of the week.
The menu has a wide choice of meals sourced directly from the Farm.
Outdoor Kitchen & Meals Court
Our Outdoor Kitchen proposes a rich menu and abundant dishes influenced by the local cuisine: you will be able to enjoy fresh meals, sourced directly from our farm.
At the kitchen, you will find farm Chefs with great expertise in preparing indigenous meals and dedicated to proposing local recipes to you.
All our dishes are rich with love and are meant to make you appreciate the farm life while having a unique culinary experience!
During your entire stay with us, you will be able to eat outdoors, by the garden, and take in the magical landscape that nature offers us while breathing the clean farm air.
THE CUISINE
Experience our local meals prepared by expert farm chefs with fresh farm-to-table produce, all the while surrounded by an orchard, garden, and best of nature.
Breakfast, Lunch, and Dinner
While staying with us – for the Family Friendly Farm Stay or Camping Out, you can opt for our Farm catering service or self-catering. With farm catering, you get to enjoy farm-fresh meals prepared for you and the best of farm dessert served. All our products are taken straight from the farm garden or dairy.
After meals, you will enjoy our farm made drinks or take a walk on the farm with mouth-watering ice cream.
Customized events and catering
Lesioi farm stay features free private parking and a garden for all your private events. We will take the burden of all planning for you so that you can concentrate on the most important thing – celebrating your day, enjoying family time, catching up with friends or workmates, playing games, or just relaxing.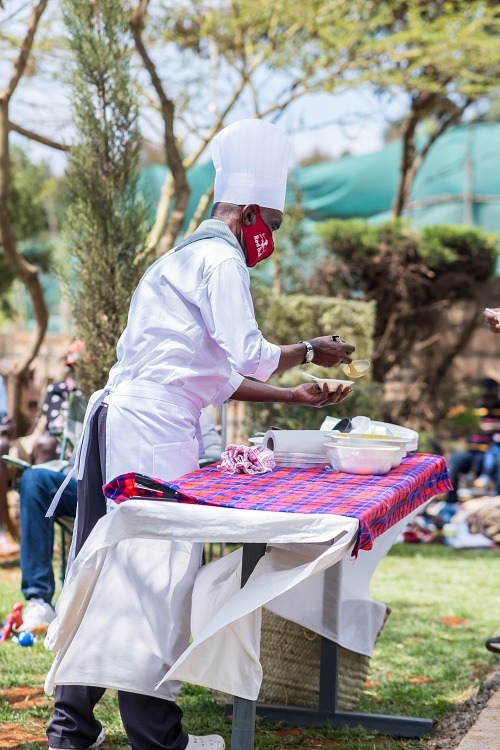 Fresh Meals
Browse through a choice of dishes and meals from our farm combined into menus from the best Kenyan and International cuisine.
Breakfast
– Ksh 700/= per person
– Kids (4-10 yrs) Ksh 500/=
Lunches
– Ksh 1,500/= per person
– Kids (4-10 yrs) Ksh 800/=
Dinner
– Ksh 1,500/= per person
– Kids (4-10 yrs) Ksh 800/=
Make
a reservation
+254 756 443342
reservations@lesioifarm.co.ke
Breakfast & Lunch
| | |
| --- | --- |
| Daily | 07:30 am - 3:00 pm |
| Sundays | 07:30 am - 2:00 pm |
Dinner
| | |
| --- | --- |
| Daily | 18:00 - 11:30 pm |
| Sundays | 17:00 - 10:00 pm |